I present the current featured artist.
KTO Rosomak IV
KTO Rosomak IV GAMST (Gun And Missle System Turret)
Prototype: 2056
Production started: 2059
Length: 10.8 m
Main body height: 2.8 m
With GAMST Mk II gun turret system: 3,7 m (ceiling)
Width: 4.85 m
Crew: 2/3 + 2-10 troops (depend of ver)
Armor: Composite, can be upgraded with additional ceramic and reactive plating + optional slat mk II armor mounted on slots aroud vehicle
Suspension: 8x8
Power Plant: General Electric NPR 20 portable micro nuclear reator 2 MW output
Engine:2 x BAE SEP 8-300 electric engines (830 kW/1112 hp) each
Weight: 31.000 kg
Max Speed: 130 km/h
Armament of GAMST version:
Mk 98 Dragon II 40 mm Autocannon, mixed ammo - turret's system mixing the ammo depending what gunner needs at the moment. There are 4 separate cartridges:
- High Explosive
- MAPFSDS - Micro Armour-piercing, fin stabilised, discarding sabot
- AP (DU)
- Anti personel, programmed munnition, warhead filled with about 100 titanium needles
-
M 224 - 12,7 mm remote controlled Heavy machine gun
HAAM 3 "Sting" - hypersonic anti armor missle launcher (12 missles carried onboard, selfreloading)
Countermeasures:
16 x 81 mm DZM smoke Grenade Launchers
LDTS - laser detection system
GPQ 33 - medium range radar
RGL 350 multispectral camera system (turret mounted)
DPC 44 - forward panoramic driver's camera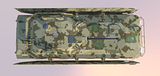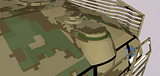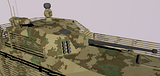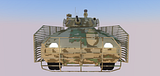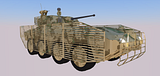 salute
Luc
some of his older works are below.