Atlantis, a Mercury mkIII-blockII, was playing around with certain parts.
Anybody intrested in a top view, go ahead, just watch it with those Nova heads, this one is narrower and is missing the side in-capings.
The Engines are based on CanisD his Enterprise battlestar, would she have a afterburner?
Who knows, what is her exeleration like?

Something I was working on for a while now.
Calipso, almost finished, keep finding trouble spots.
Basicaly the bastard child of a Thanatos warstar and a Columbia mkIII-blockII battlestar, both officialy and un-officialy never builded.
Thus causing havoc on the BioCylons, since they only get partialy hull shots before a explosion happens.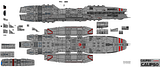 And them togeter with a few other (well known) ships.
Didn