---
Am reposting my pictures.
https://www.deviantart.com/falldess
First up, the:

CanisD

Mobile (Twin Vestal) Dockyard, still unfinised.
The extra docking points are for either a lenghtend Vestal class or to link several together in a temporary way, so a Battlestar longer then a Vestal could still be docked.

Two Vestals on each side, nose to nose, is the maximum the CanisD can support & still be able to jump, normal configuration is with two Vestal's, not four, if only for fuel economic reasons alone.
But with foor it is not just nose to nose, but also with two upside down in order to not crunch their bridges into scrap metal.
The back two Vestal's are then linked to three collars sets and the front two are then linked to seven such collar sets.
At the time of design, it was also hoped two CanisD's, with their Vestal's mounted on one side, would be able to join/fuse/dock with the planned Colonisation & Evacuation ships, if docked to it upside down.
The initial planning was thinking of using a dockyard hull frame for the main body, which later was not followed up on, even if it would have allowed tiered cities with farmlands on the inside of the ship, this thus makes the idea of docking two CanisD's to one Colonisation & Evacuation Ship, impossible.
Yet the newer dockyards where compatible, so the CanisD's could still support the biggest Battlestars around.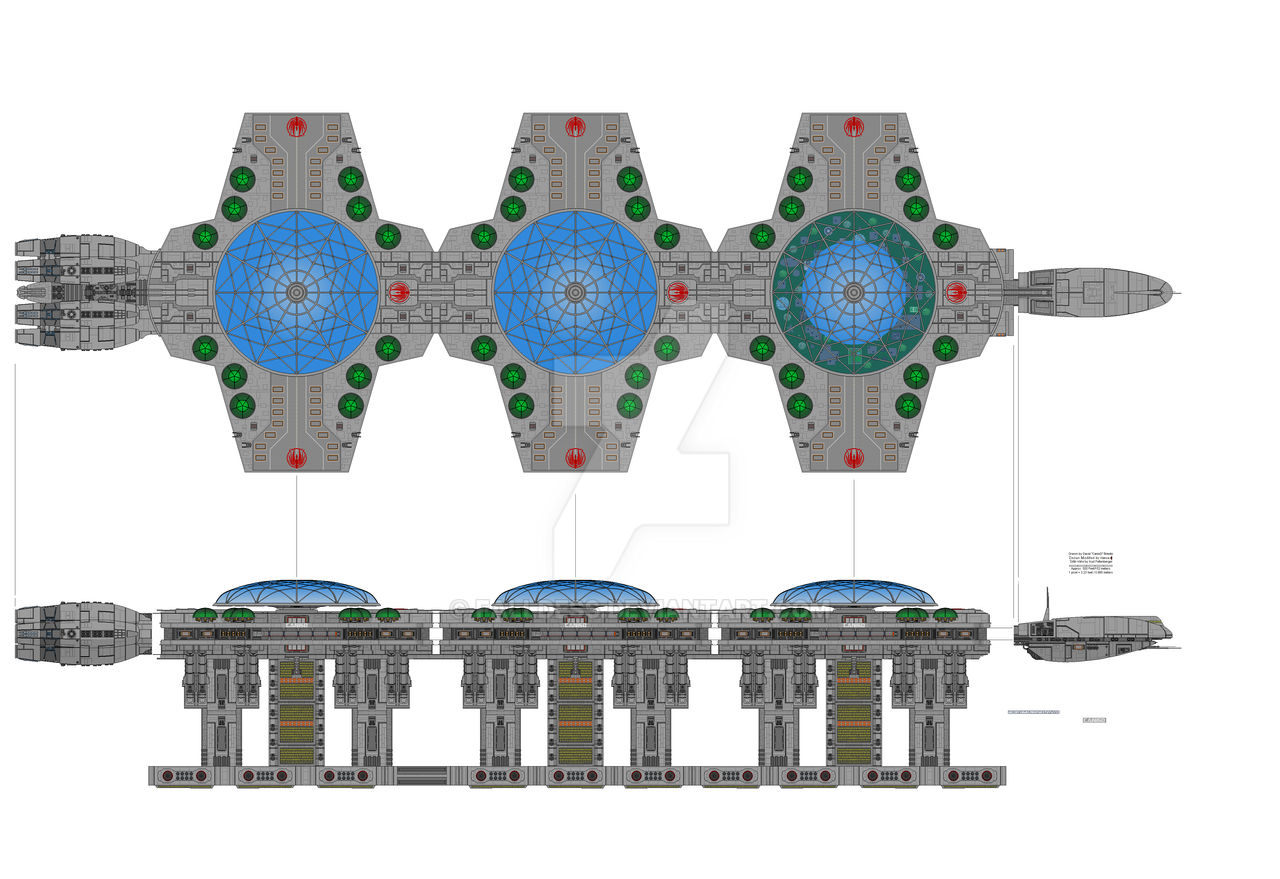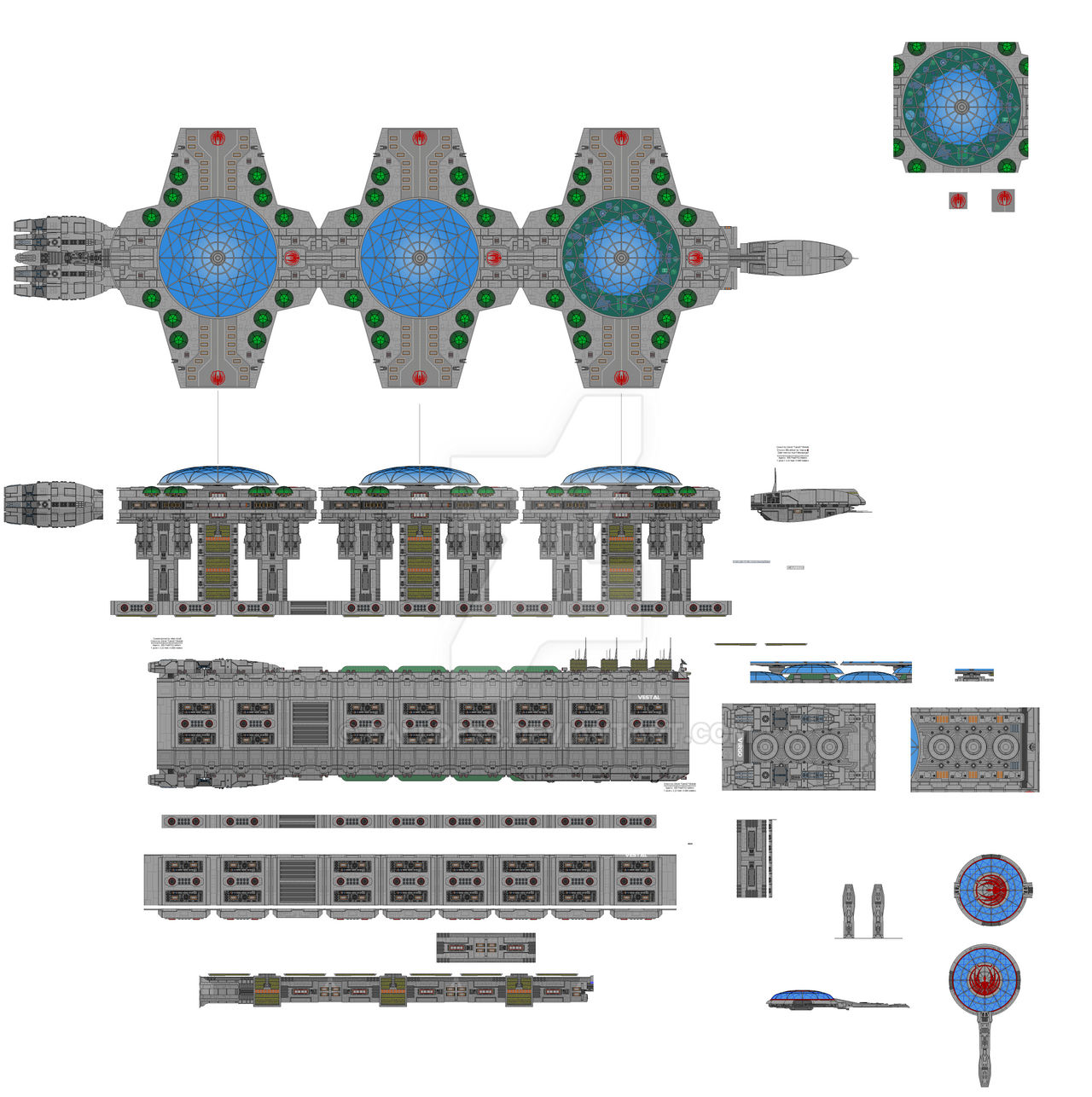 Played around with CanisD his mobile shipyard, dockyards & fleet HQ, a while back.
The result is the bird place of the Calipso & the Atlantis.
It really helped they had a CanisD to bring in scrap-parts, less stuff they had to fabricate in order to finish & upgrade the ship hulls they had.
Too bad they only managed to get one, the CanisD herself, on the day of the Fall of the Colonies, bringing in more scrapped hulls & Fleet Personal from the Supply & Engineerings department.

Yeah, Adar noticed that the Colonial Fleet was both constructing & keeping fleet units off the books, investing in massive black programs and relocating fleet personal to unknown posts.
It was one of his reasons to push true the CNP-program and also why he enacted budget cuts on the Colonial Fleet.
Yup, all the various Post Fall stories that had multiply RTF's running of into different directs, happend, here.
Most of those admirals that started up those black (RTF) programs, where thus cursing this rear admiral of Supply & Engineering, his/her name for appearing to do what Adar wanted, actually scrapping what was already constructed.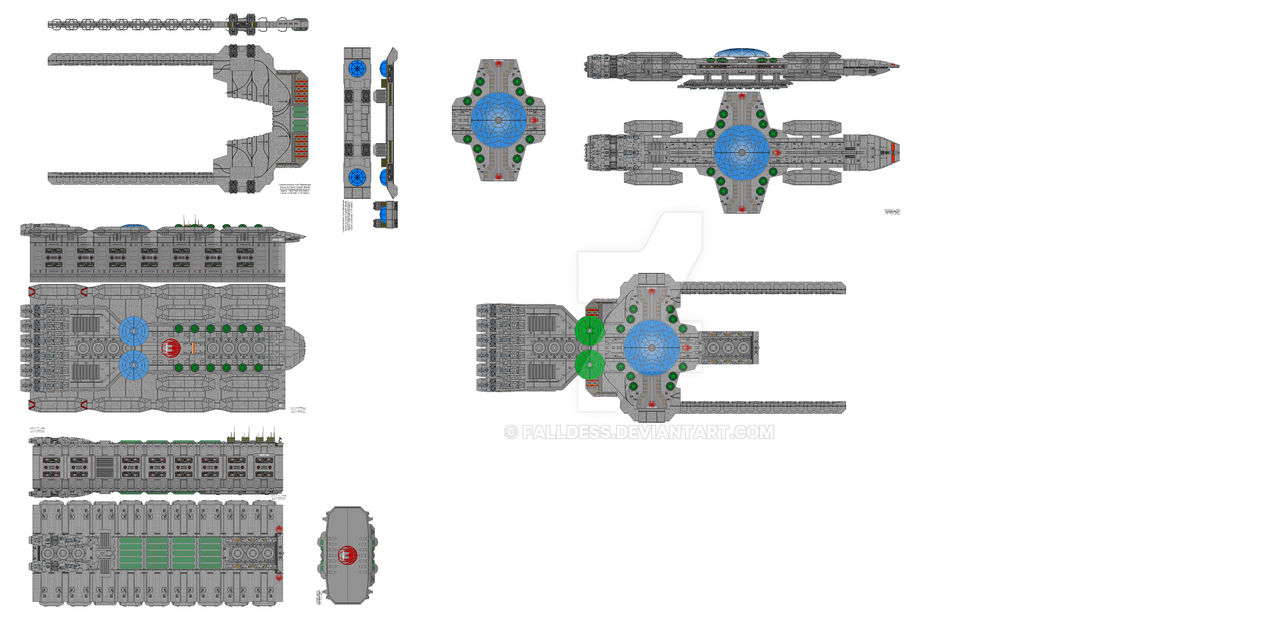 The Mercury class mkIII, block three, Battlestar Atlantis, still under construction, post-fall.

The Atlantia is a Mercury class mkIII block II, but Adar scrapped her sister ship, the Atlantis, when almost finished, after relocation, she acted as a defence station for a also scrapped smobile shipyard, while it constructed a FTL module for itself and then continued to construct the Calipso class Battlestar, while the Atlantis stood guard.
After the fall of the Colonies, several different Battlestar engine pods where recovered, in a effort to get them working again, they accidentally managed to boost the thrust output of the latest experimental stealthed Battlestar engines, by mating them to Atlantis engine components.
The Engines are based on CanisD his Enterprise battlestar, would she have a afterburner? 
Who knows what her exeleration acually would be like?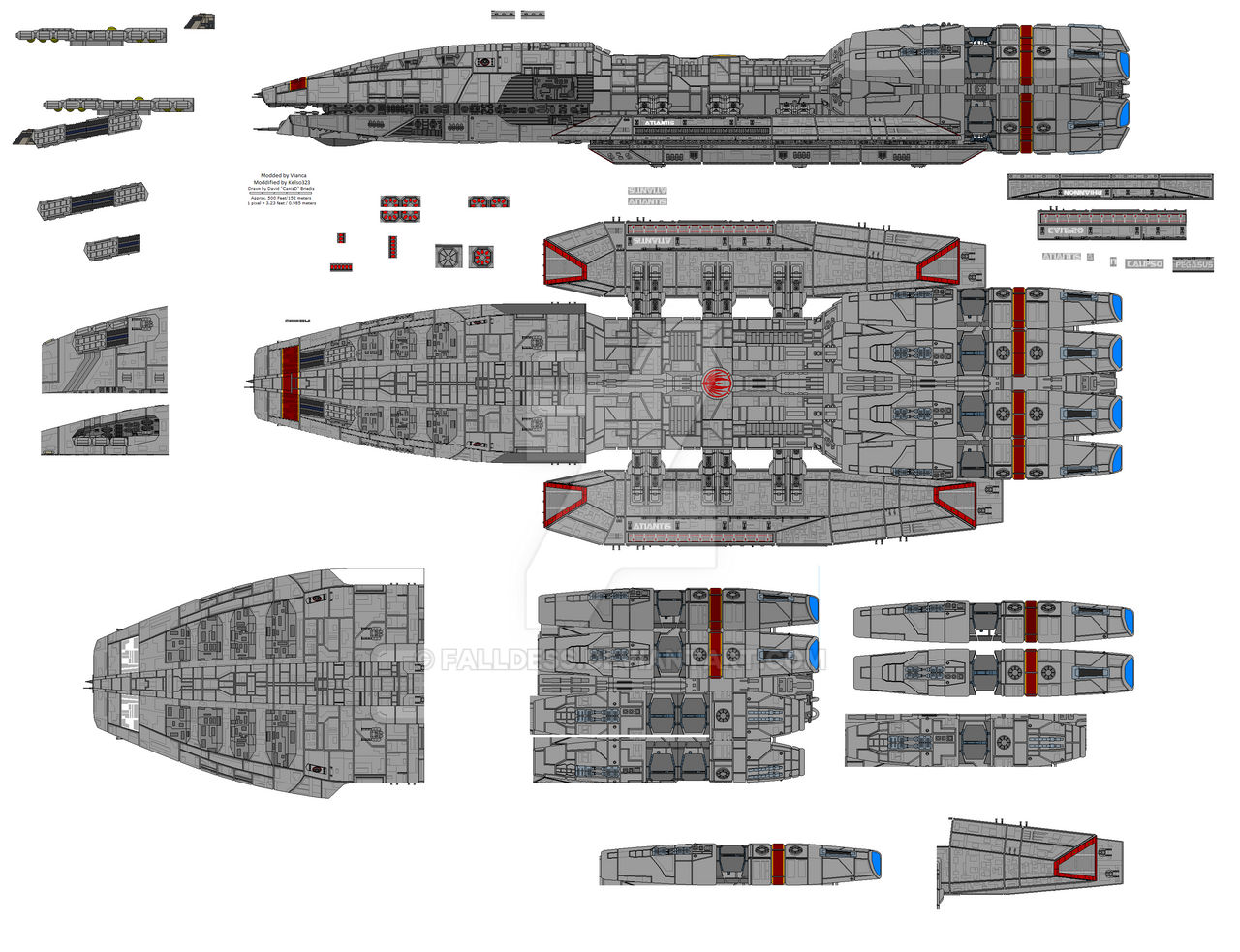 Calipso, her origin of existence is basicaly thanks on Adar cutting in the types and numbers of new build Colonial Fleet units, wanting more uniformity and lower running cost. 
Causing partly and even newly build units to be trown to the scrapheap, after having paid for the work done. 
Two of the units were Arctic class supply ships, just needing their weapons fitting. 
Another, a mobile shipyard that was just far enough along, that in theory it could do the finishing work it self, as long as it had the materials. 
A couple Thanatos and Columbia class hull parts where thus relocated by the Fortune Hunters, together with other things, like several mobile yard components, for the cost of a couple of smaller patrol & supply ships, like a Artic and the Fortune, the latest Defender styled variant.
Basicaly the bastard child of a Thanatos warstar and a Columbia mkIII-blockII battlestar, both officialy and un-officialy never builded. 
Thus causing havoc on the BioCylons, since they only were getting partial hull shots before a explosion happens.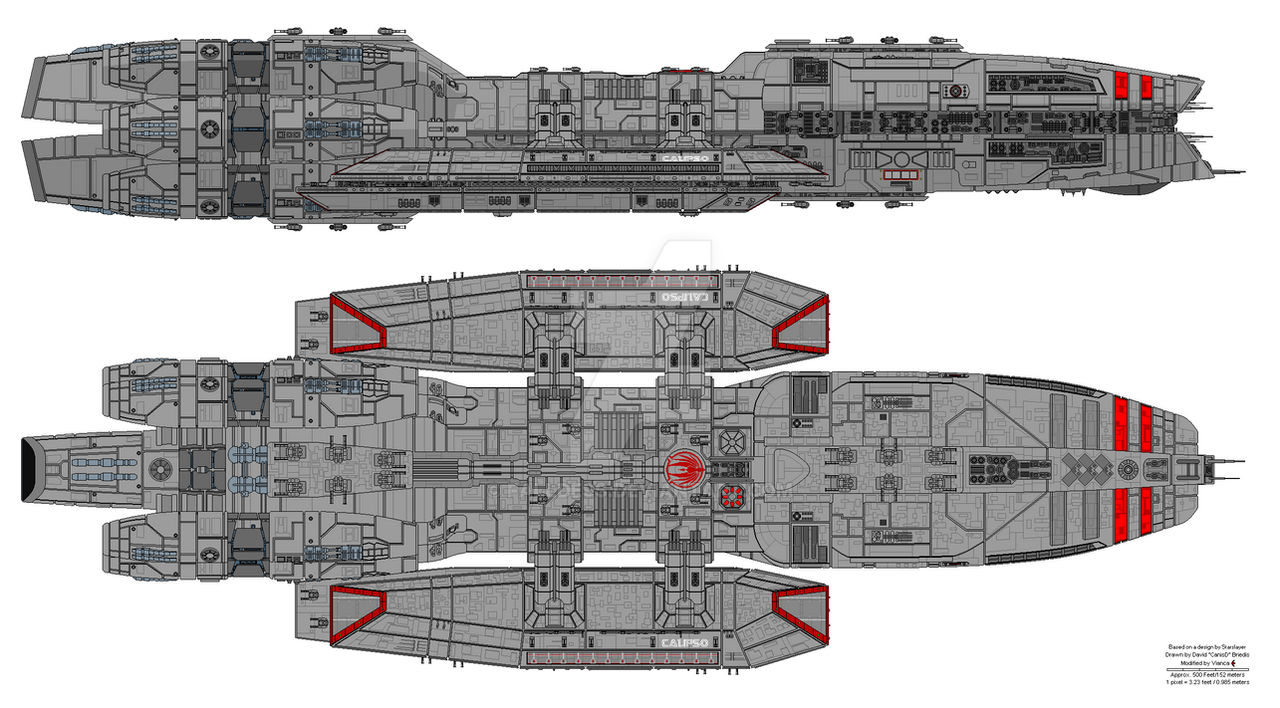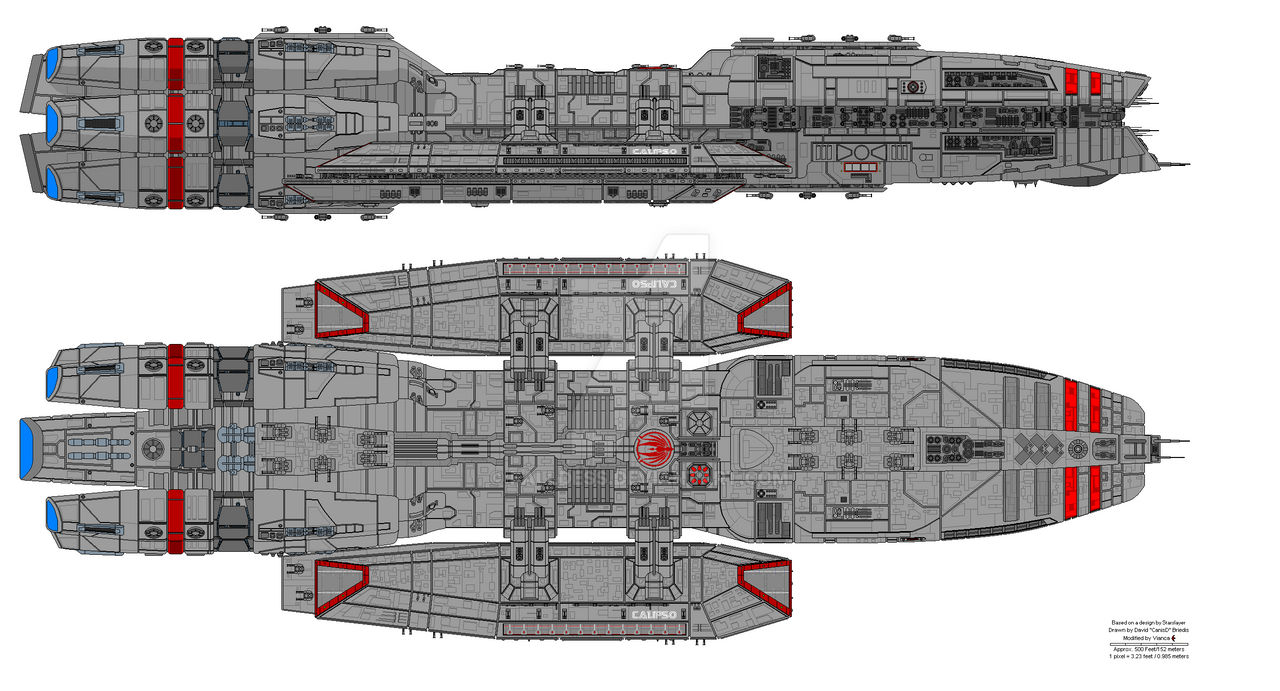 The Com & sensor satteliet layer, that is also capable of repairing small warships up to the Firestar, in it´s construction yard, literally designed to stand it´s ground, while securing said construction or repair job, for a emergency jump.