These are a few things that I modded from various parts list credit to their originators.
The first is a crane for a shipyard.
The next is a modded engine design with thrust vectoring nozzles added.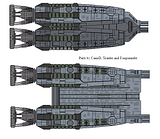 The last is modded gun turret, the black line shows where the ships hull would be in relation to the turret.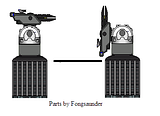 Last edited by Anonymous on Thu Oct 04, 2012 6:31 pm, edited 1 time in total.