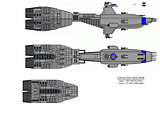 So I'm a little hung up at the moment. I'm not liking the top view of the engine block. I'm wondering if anybody might have any ideas about making it look a little better.
Also, any suggestions about doing paneling would be appreciated, as I've never created that much of it from scratch.
Yes, its a BSG version of the Hyperion from Babylon 5.