Most components are drawn by CanisD retextured by Feral. Ship is based on CanisD drawing of the Battlestar Galactica and Arctic Class Replenishment ship. Thank you Canis for the wonderful drawings.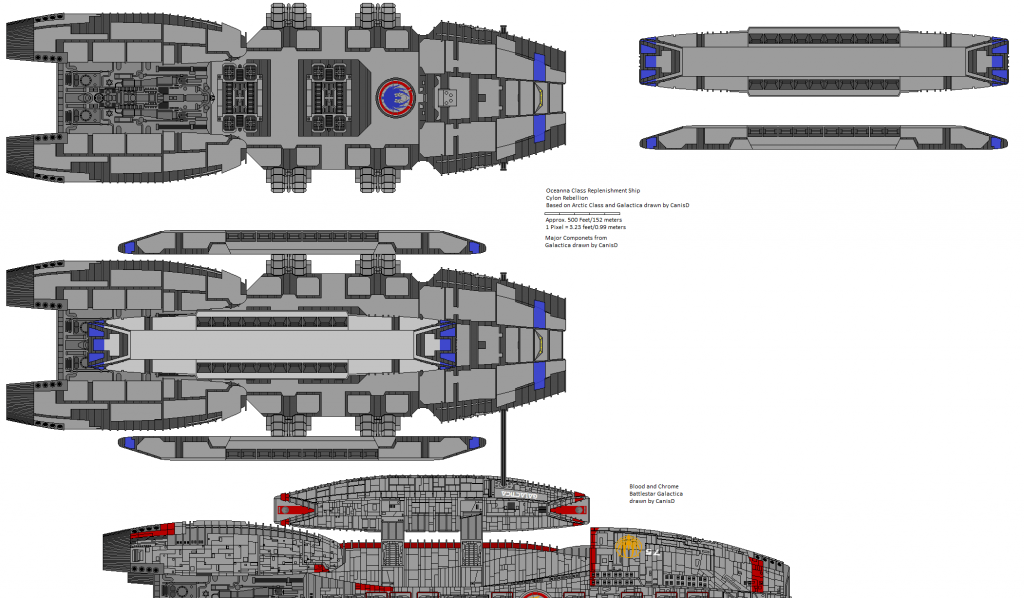 http://s1300.photobucket.com/user/fiery ... sort=3&o=0
Halfway through the Cylon War, Colonial Fleet Command started to see that older fleet cargo vessels just couldn't keep the fleets supplied. The smaller ships also had to have a large escort group pulling numbers from the front lines. As the war progressed numbers were beginning to look bad for the Colonials. They couldn't keep the remaining fleets supplied. During a major battle a Armageddon Class Battlestar received heavy damage. Scorpio Fleet Yards received orders to recondition the ship as a feet resupply ship. The new Oceanna Class Fleet Resupply Ship slipped her moorings three months before the end of the war. Able to resupply two Battlestar Groups per mission the ship was considered a success. Of the fourteen built after the war two were destroyed, three sold as scrap, and one sold to a private interest. The remaining eight were sent to mothballs near Sagiteron.
Comments please permission to use my drawings is given as long as proper credit is given.