Here is the beginnings of a request pic for XRaider. I Like this ship, so i agreed to the request - i was watching bsg at the time and it kinda reminds me of a viper
Made a start on it, I think it will be more of a "loose interpretation" of the picture
been a while since i've drawn any ships, so bear with me!
here's the source pic that XRaider sent me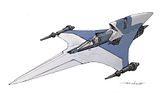 EDIT: 27/07/2010 updated pic
EDIT: 07/08/2010 added completed pic to completed drawings section of the shipyard
_________________
My Galleries are here:
http://munners.deviantart.com/gallery/
- all watermarked, so cannot be used for modifications
http://s1289.photobucket.com/user/Munne ... t=3&page=0
- use this for images that you want to modify, just leave the credits on the picture and add your "modified by" to it instead of a link (hence the reason DA stuff is all watermarked!)
Last edited by Anonymous on Sat Aug 07, 2010 2:44 pm, edited 1 time in total.