I thought since I haven't been finishing any colored profiles recently, I would post up some of the collaborations I've been doing with my friend Logan recently. We're coming off two successive Group Build wins with these.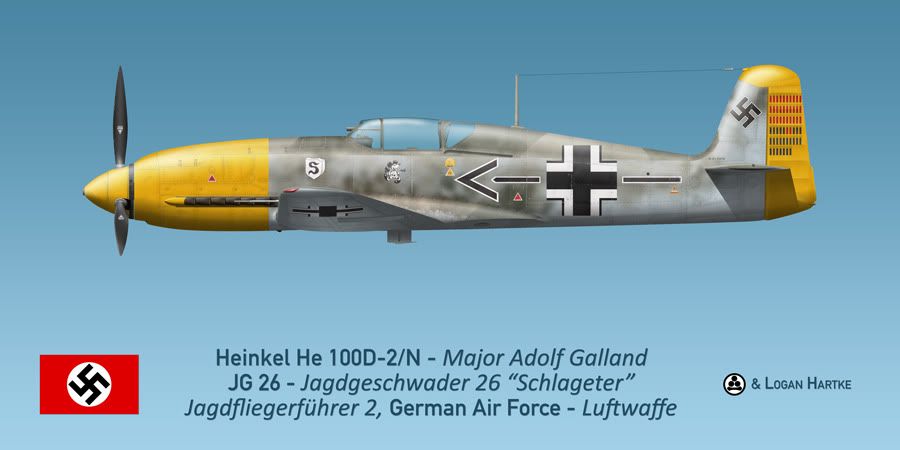 Full-size link.
http://fc02.deviantart.net/fs70/f/2012/089/a/1/adolf_galland__s_he_100d_2_n_by_comradeloganov-d4u7rcl.png
(It's big, beware.)
By 1938, it was becoming clear that, given the same engine, the Heinkel He 100 would out-perform the Messerschmitt Bf 109 in maximum speed, range, and altitude. As a result, the Reichsluftfahrtministerium decided to get the most out of the limited supply of Daimler-Benz DB 601 engines available. Priority was given to the He 100 while Messerschmitt received the balance. The Heinkel He 100D soon entered full-scale production, the first units receiving their aircraft in early 1939. By spring of 1940, the Bf 109 remained the backbone of the Jagdwaffe, but the He 100 was quickly replacing it in front line units. By the invasion of France, the He 100 would comprise roughly half of the fighters in Jagdgeschwader stationed on the Western Front. The He 100 cut large swathes through French and British fighters opposing it, making aces out of many of its pilots during the campaign.
One such pilot was the flamboyant Adolf Galland. A veteran of Spain, Galland mentored under fellow Condor Legion veteran and accomplished ace Werner M
Last edited by Anonymous on Mon Apr 30, 2012 12:32 pm, edited 1 time in total.