Following on from the successful launch and trials of the two mega Agro ships 'Titan Botanica' and 'Titan 'Geoponica', Galens faith in the new cylinder hull system was growing.
However, the Earth fleet was behind schedule.
There was a need to quicken the pace of the construction process.
With many of his workers previously redirected to the completion of the cave dwellings down on Terra, Galen
was under severe pressure to make up for lost time, however this was when he was at his best.
He was requested to explore the feasibility of producing a giant space observatory to accompany the fleet on the journey to Earth for two reasons;
Firstly to act as a de-facto picket ship to trawl the stars for any potential hostiles.
Secondly to map out the star systems on-route, and in particular search for any planets that may support life.
Many ships were on the drawing board all just as vital as the next, but rather than tackle some of the smaller vessels to get back on schedule, Galen thought it more prudent to utilise the templates and settings on his construction rafts already set for the cylinder hulled ships, and so adopted the design once more to deliver a ship that could rotate a pair of telescopes and a further pair of antennae to scan a full 360 degrees as the ship moved forward.
The ship had the capability to house many thousands of passengers and crew.
As with many vessels in the new fleet, this particular ship was built to accommodate the scientists and experts needed to begin a whole new colony should the need arise, and to accommodate any survivors from any vessels that, heaven forbid, were lost along the way, or more hopefully a number of key personnel from Earth to begin the process of integrating the two colonies.
Ladies and Gents, the Observatory Ship Discovery....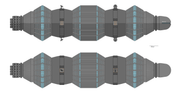 This was the prototype vessel known as the 'Squircle' cylinder ship due to its square barrel rounded at the corners to accommodate the domes for the agro ships. The barrel design also allowed for a full circular cylinder, a hexagon or any combination thereof....