Events in the fleet had taken an unfortunate turn, the military leadership left reeling.
Sire Galen however could not afford to be deflected from his mission and pressed on with the new 'Discovery Fleet'.
He had been presented with many logistical, design and manpower problems, the latter now fortunately overcome with the return of his key engineers and construction teams from the surface having completed the TERRADACA complex.
Having successfully masterminded the two new Mega Agro Ships and the new observatory ship Discovery now under construction, his thoughts turned to a problem that had vexed him, the senate and military equally, how to solve the lack of livestock and marine life on Terra.
Paradoxically, thanks to these new Agro Monsters, root vegetables and crops were aplenty, but meat and fish were scarce due to them leaving Earth with very limited herds of animals with which to breed and feed the masses. This also led to the problem of a weak blood line and poor quality breeding stock.
A meeting of the council agreed that 'Project Discovery' should be given extra cash and resources, Galen's hand had been strengthened by his articulate argument for using the colonial technology as a bargaining chip with the people of Earth
All agreed that the journey to Earth should be, not only an attempt to warn Earth of the Cylons, but also establish trade links if possible with the promise of sharing colonial technology in exchange for manpower and livestock to return to Terra.
Hence the 'ARK' project was born, two vessels were designed with the help once more of the ever more influential Cylons, Lucifer and Spectre.
The first vessel would be for the transport of livestock, birds and land mammals in its many holds, together with the very best scientists on the upper decks to provide information on each individual species.
She was to be known as the 'Ark of the Stars....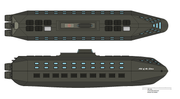 The second, sister vessel was for the transportation of ocean creatures ranging from the smallest right up to small Whales, those that were too large to transport would have D.N.A harvested and recreated on Terra using their advanced technology.
This vessel was to be known as the 'Ark of the Seas'....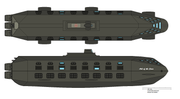 Here she is on the ocean surface;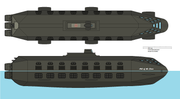 And finally fully submerged;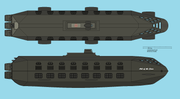 Both were essentially space faring vessels but the 'Ark of the Seas' by definition was designed to enter the ocean, the
'Ark of the Stars' could also be converted to an ocean going vessel, should the need arise.