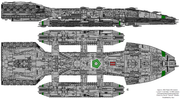 Initially launched as the Caprican Navy's Battlestar
Aquitar
, the vessel known later as
Uprising
was a Flight I Ares class Battlestar launched 19 years before the First Cylon War. The vessel was undergoing a refit during the events of the Uprising when the Cylons rebelled.
The ship would be stolen and crash sailed from her slipway by the Cylon crew complement augmented by the shipyard's Cylon workforce after killing the remaining human crew aboard, jumping her into deep space to link up with other Cylon forces. There she would undergo a refit to remove her human equipment onboard, replacing her gun mounts and airwing with Cylon weapons and craft. She would be renamed
Uprising
by her crew.
Her onboard weapon systems would be changed for standard Cylon systems, with her MKI KEWs being replaced with a Cylon Dual DPKEW Mount based off of the 1m guns found on Basestars. Her .5m mounts would be removed entirely and her 30mm flak grid would be augmented with additional mounts. The hangar bays would see the Viper launch tubes replaced by Raider tubes, along with facilities to operate Heavy Raiders. The airwing would consist of 60 MKI Raiders, along with 12 of the Heavy Raiders.
The ship would excel at hit and run attacks, with most Colonial ships being unprepared to fight another Battlestar in a gun duel. She would have a higher tonnage list than most Baseships, eventually becoming a major thorn in the side of the Colonials for years. Shortly after the events of the Ghost Fleet Offensive, the
Galactica
and the rest of BSG-75 would be tasked with destroying the vessel. They would later accomplish destroying the Battlestar, however with heavy casualties and
Galactica
would undergo a refit due to the heavy damage sustained.