alright.
ladies and gents, this is the block III limited run archer subtype.
she does not have a name.
a prototype test type, she was launched late, and incomplete, a number of upgraded systems were either partially installed or not installed at all.
this was due to her being re-purposed for an urgent mission that required the speed of a sobek class, which was well known for possessing a fast sublight speed, and an even faster FTL spinup time, making this class often the first ships able to respond.
her current whereabouts are unknown after the fall and she is presumed missing, lost with all hands.
direct link:
http://img.photobucket.com/albums/v106/ace1701e/COMPLETED/V2%20Battlestar/BS_ArcherblockIIwork-KFMods1.png
thumbnail: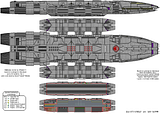 _________________
my deviantart page:
http://xraiderv1.deviantart.com/
archive of our own, good place to find lots of fanfiction:
https://archiveofourown.org/