Omega Halo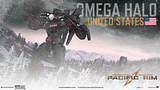 Type: Mk V
Name: Omega Halo
Country of Origin: United States
Launched: 2035
Status: Active
Speed: 9
Power: 10
Armor: 9
Kill count: 12
Omega Halo was one of three American Mk V jaegers build in 2035. It was stationed in Anchorage together with Gipsy Danger 2.0 from where is deployed to Pacific when needed. It was extremlly well build and effective Jaeger which prove its high kill ratio. From 2035 till 2041(end of war) it score 12 kills. It survived the war and after the war was placed in Jaeger museum near Washington D.C.
Hyperion Frenzy
Type: IV
Name: Hyperion Frenzy
Country of Origin: -
Owner: Nexon coorporation
Launched: 2018, retired 2025, reactivated 2032
Status: Active
Speed: 7
Power: 8
Armor: 7
Kill count: 5
Hyperion was third jeager build by Nexon, it help defenting many cities and towns acros the Pacific during the first war scoring five kaiju kills in total. At the end of war 2024-2025 it was stationed in Hong Kong shatterdome together with Kraken and Mjolnir but after Mjolnir destruction and later loss of remaining four PPDC jeagers that were still in service, Hyperion and Kraken remain only jeagers that were still active. Hyperion would be retired in 2025, but hastly reactivated after second invasion starts.
Kraken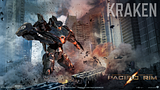 Type: Mk IVa
Name: Kraken
Country of Origin: -
Owner: Nexon Coorporation
Launched:2020
Status: Active
Speed: 9
Power: 9
Armor: 9
Kill count: 7
Nexon corporation who also created Striker Eureka for Australia, build its own jeagers wich help PPDC in defeating the kaiju. Tsunami Thunder was also one of Nexon's jeager, but was sold to Australia early during second invasion. Kraken remains under Nexon control, however it was stationed in Hong Kong shatterdome. Between 2020 and 2025 Kraken kills seven kaiju, and holding record like Striker never to be badly damaged. Kraken would play important role during the second invasion.
Leviathan
Type: Ia
Name: Leviathan
Country of Origin: Sweden
Launched: 2035
Status: Lost(2038)
Speed: 4
Power: 10
Armor: 10
Kill count: 4
Leviathan was one of two Sweden Jaegers. It was build on Russian Cherno plans. It served as part of North Defense Command protecting Sweeden and other countries in region from kaiju attacks. It Scored four kills before it was destroyed by type IV kaiju in 2038.
Atlantic Mirage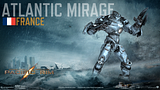 Type: Mk III
Name: Atlantic Mirage
Country of Origin: France
Launched: 2033
Status: Active
Speed: 7
Power: 7
Armor: 8
Kill count: 3
Mirage was one of three France jeagers build during first three years of second invasion. It was stationed in Brest shatterdome from wich would be deployed in case of kaiju attack. When second rift opens in later 2033 in Atlantic, it would become on of jeagers that protect coast of France, Portugal and Spain. It will score three kills during the war, while from 2036-to the end of the war in early 2041 would be retired in favour of new Mk V jeager that would enter the service.
Citadel Defender
Type: Mk V
Name: Citadel Defender
Country of Origin: United Kingdom
Launched: 2034
Status: Active
Speed: 8
Power: 9
Armor: 9
Kill count: 7
Third and most advanced UK jeager, Citadel Defender was leading jeager in North Sea teritory. It replace Ark Royal and Bulldog wich were transfered to Atlantic. During the war it scored six kills all on its own without any other jeager that help. It faced second and last kaiju of the second invasion the Type VI Megadon. However it didnt kill it by itself, several other jeagers participate in the fiinal battle wich saw death of the creature and final closure of the last rift.
Pacific Sunrise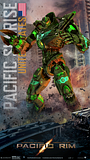 Type: IIIa
Name: Pacific Sunrise
Country of Origin: United States
Launched: 2018
Status: Retired(2023), reactivated(2032), retired(2036).
Speed:7
Power:8
Armor: 7
Kill count: 3
Sunrise was originaly build as replacement in case of Gipsy Danger destruction, however it stayed in service after kaiju attacks become stronger and more offten. It was piloted by Alex Dentell and Corry Kinger. During its carrer it kill two kaiju and was retired after reciving heavy damage during last battle in wich menage to kill its second kaiju. Nevertheless Sunrise would remain stored in Los Angeles shatterdome and when second invasion starts in 2032 it will be repaired but it will be brought to service in 2034 when another rift open in Pacific. Piloted by new rangers Sunrise would kill at least one kaiju before been retired in favour of new Mk V jeager that replacing it.