Here I go again...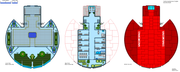 Capsule: In 2243 TranStar, a utility shipbuilding company, decided to try to reach a broader market. They released the Haulzitall, a cargo ship advertised as capable of doing just about everything, and for a very competitive price.
Unfortunately, the Haulzitall was a failure on several fronts. In order to cut costs it was unarmed, at a time when most ships at least carried light armament for defense. Critics panned the design as "ugly", "clunky", and "boring". The linked power plants tended to become unstable, causing feedback loops that required the engines to be shut down, recalibrated, and cold restarted on a semi-regular basis.
Although TranStar tried to fix the shortcomings with an upgrade package, they were forced to cut their losses and sell the remaining stock of Haulzitalls at nearly cost. TranStar wrote it off as a bad deal, and went back to producing reliable, boring utility vehicles that consistently turned a profit.
For the owners that bought Haulzitalls at discount, the ships found new life and popularity. By replacing the main engines, removing the redundant sensor package, and adding decent armament, Haulzitall owners found themselves with a large capacity, highly maneuverable freighter. The power drain from the oversized shield generators became a boon, allowing Haulzitalls to take far more damage than a standard light freighter.
There are several Haulzitalls that have disappeared over the years, and ship collectors fervently try to track them down in hopes of purchasing an unmodified ship. There are no confirmed unmodified Haulzitalls in existence, and anyone that could find one, even in bad shape, could fetch a high price for it.