I am doing several ships from SBY so il post them here, you can also see it on deviant
first finished was Isokaze destroyer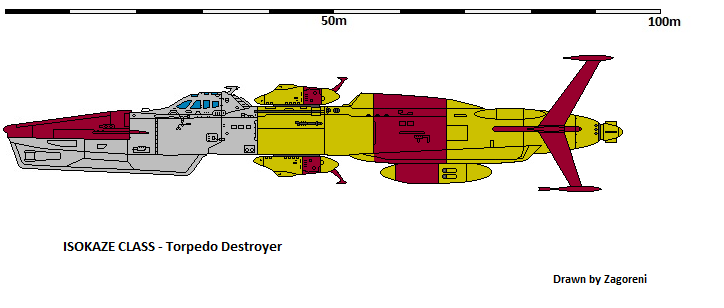 Designed by Japanese admiral Daichi Kusagi and first ship built in 2181, Isokaze immediatley become workhorse for Japanese part of United Earth Cosmo fleet. Fourty five ships were built for Japanese fleet with additional twenty five for European space forces.
During the war with Gamilas (2191-2199) Isokaze class ships fought valiantly but they were no match for Gamilas ships, their 12cm cannons couldn't penetrate Gamilas armor, howeveer their torpedoes and missiles prove to be deadly for Gamilas destroyers. Admiral Hartman of European fleet deployed seven Isokaze destroyers during first battle of Mars, in which six enemy destroyers and one battleship were destroyed by torpedo attack from Isokaze destroyers, with only one of destroyers actually been lost during the attack.
By the 2199 and battle of Pluto, only fourteen Isokaze remains, twelve with Japanese fleet and all twelve were destroyed during battle of Pluto (with one crashed - Yukikaze and was later a memorial to all who died in Pluto battle, and two were with European command but none of them space worthy. Those two ships would be only ships in united Earth fleet until new fleet was build, not counting the Yamato.
Armament: 12.7cm triple-mount high-pressure amplified light cannons x 2
12.7cm anti-ship cannon x 2
Torpedo launchers x 3
Missile launchers x 8
Ships:
Japanese fleet:
DDS-101 Isokaze
DDS-102 Arashio
DDS-103 Ayanami
DDS-104 Isuzu
DDS-106 Shikinami
DDS-117 Yukikaze
DDS-118 Yamagumo
DDS-119 Ayase
DDS-144 Shiranui
DDS-145 Hatsuzuki
DDS-147 Fuyuzuki
DDS-148 Minazuki
DDS-164 Kagerou
DDS-172 Shimakaze
DDS-216 Tachikaze
DDS-217 Akebono
DDS-224 Yoizuki
DDS-251 Oi
DDS-252 Uranami
DDS-255 Yudachi
DDS-259 Makinami
DDS-261 Otsuki
DDS-262 Fuyukaze
DDS-267 Ushio
DDS-277 Inazuma
plus twenty others
European Fleet
DDS-120 Diamond
DDS-121 Astute
DDS-124 Tornado
DDS-125 Hermann
DDS-126 Haida
DDS-130 Winterfield
DDS-131 Dragon
DDS-132 Viking
DDS 134 Longbow
DDS-166 Arrow
DDS-167 Stiletto
DDS-168 Danae
DDS-170 Wolf
DDS-171 Tiger
DDS-175 Enfield
DDS-177 Napoli
plus nine others