And because I can't walk away when I get an idea...
To many, the
Hermes
was an answer in search of a question. The secure transport was a credible idea and the ships of the
Hermes
class would offer yeoman service and have an enviable safety record. Every design house has designs that never happened and were never built, and they have a stack of affidavits that support that theory, just look at the Angels of Death. So, too, E2's
Hermes
class had a shadowy and more expensive, a much, much more expensive, half brother, the
Hades
class.
Hades
was an answer to a Fleet solicitation that requested a large, powerful, able to outfight what it can't outrun, blockade runner or covert operations ship. Outwardly, the base
Hades
looks identical to
Hermes
except for the dradis defeating anechoic coating. Except that
Hades
cost three times what
Hermes
cost, thanks to the additional electronics, tweaked and vastly uprated engines, and general no expense spared approach when it came to ship's systems and fitting out. And that was just the base ship. When her EW pods were added into the cost, the overall flyaway price for each
Hades
was almost nine times that of a base
Hermes
.
What did the Fleet get for their money?
Concealed under panels in the nose were four 1m spinal kinetic guns. Unlike the turreted versions and the originals that were in the predecessor classes, these ran from where the canards were located all the way to the bow, and were able to accelerate any of the 1m projectiles in inventory to well in excess of 30km/s for several shots before the capacitors needed to be recharged. During the recharge, they were only able to launch rounds at slightly higher velocities than standard fixed gun mounts.
The EW pods were an electron warrior's dream come true, and during
Hades
' trials, they proved so able at masking her signature that opposing ships looked for an absence of anything...essentially, they would look for a "hole in space". Hades proved many times over that she could approach any of the Union worlds, even if they were looking for her, orbit, sometimes land, and leave without ever being detected.
The final tweak was that each wing received two hardpoints for the new long duration drones; one above and one below each wing. This wasn't done often as it degraded the ship's stealth, though that was a matter of degree - even carrying a full load of drones, no
Hades
was ever spotted. Normal procedures would be for a second ship, at a greater standoff range, to launch the drones should they be needed.
Hades
without EW pods: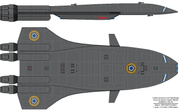 Hades
with her EW pods: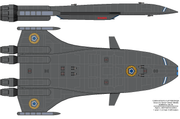 _________________
Kurt
Click the link to read Lady Hecate off line in PDF, .epub, or Kindle formats:
http://www.bsg94.org/downloads/index.html
Click here for the Colonial Warbook for Lady H:
http://www.photobucket.com/colonial_warbook