During a planning session at Harvest House Foods' yearly long range strategy conference, one of the directors asked whether it was possible - legally and physically - for an
Aphaea's Harvest
class agro-ship to host a group of scouts for two weeks so that they could learn how space based agriculture worked. The ships weren't designed to carry many passengers, a couple dozen at the most, and for a small group on an infrequent basis, however, it could be made to work. Legal and Operations didn't have any objections and Marketing saw it as a great way to build some PR and have an expense write-off if the cost of passage was donated.
Once a month, on one of three ships, a two week "field trip" was hosted and became one of the signature public outreach projects of the company. However, others started asking if they could take part and what had been an inquiry here or there soon became a statistically noticeable number of requests. During her refit,
Aphaea's Harvest
was had her dome supports modified to add two, 3 meter decks under the dome itself. These decks contained quarters, restaurants, duty free shops, a full hospital, and many of the amenities of a cruise liner or long range transport. The plan was to offer gardening classes and agronomy studies both to schools and interested individuals. An urban family could now learn how to garden, learning techniques that would suit high density living, while vocational-technical schools could send students to get hands' on experience.
Within the first year, Harvest House realized that they had a winner. Originally, they thought that it would be mainly vo-tech schools that would form the bulk of the passengers carrier, but it was people who wanted a different vacation. Two more ships were taken in hand and modified during the program's second year, and three more during the third, fourth, and fifth years of operation.
People would sign on to learn how to garden or farm for two week or four week cruises, or longer two, three, or four month "expeditions". One nice perk of being on a cruise or expedition was that those taking part were able to take home some of the food that they had grown since each ship was fully equipped to preserve the harvest.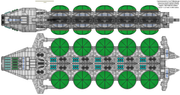 _________________
Kurt
Click the link to read Lady Hecate off line in PDF, .epub, or Kindle formats:
http://www.bsg94.org/downloads/index.html
Click here for the Colonial Warbook for Lady H:
http://www.photobucket.com/colonial_warbook