These are two new designs that have been sitting in the "to be posted" bin for more than three years...
In the aftermath of the Cylon Uprising, the Colonial Ministry of Defense was keenly aware that combat had devolved to hand to hand fighting on numerous occasions and that the human side of the equation was grossly outmatched by the Cylon half of the equation. They began the Gladiator program to develop a powered exoskeleton that would give a human the same strength as a Cylon Centurion. Over the years, the designs were changed, adapted, modified, and refined into what the Colonial Marine Corps calls "Battle Dress Armor". The armor is still informally known as Gladiator armor, and derisively as 'wearing the can'. What is beyond doubt, however, is its effectiveness. Sealed against the elements and offering CBRN protection, the armor is able to withstand repeated 12.7mm hits, offers strength that is more than equal to a Cylon Centurion, or its projected replacement, and yet still has enough manual dexterity to allow the wearer to play the piano.
Battle Dress is offered in the standard configuration as well as a slimmer version for slighter operators. Consequently, the armor is known as either male or female configuration.
A full range of strengthened melee weapons is available for use with the armor.
Battle Dress Male: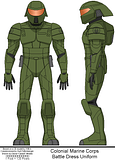 Battle Dress Female: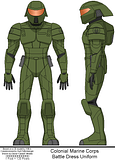 _________________
Kurt
Click the link to read Lady Hecate off line in PDF, .epub, or Kindle formats:
http://www.bsg94.org/downloads/index.html
Click here for the Colonial Warbook for Lady H:
http://www.photobucket.com/colonial_warbook