Finally, a repost of the underwater craft mentioned.
Selkie, SSGS-872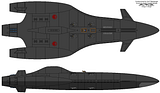 Triton, SSCVS-304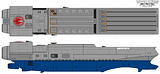 Eudore and Iphianassa

Star of the Seas, Patron of the Seas, and Princess of the Seas

Finally, a size comparison, including NCL Elysian Paradise from the Communion. I've included Alecto (a Valkyrie class battlestar) and USS Nimitz for comparison...
_________________
Kurt
Click the link to read Lady Hecate off line in PDF, .epub, or Kindle formats:
http://www.bsg94.org/downloads/index.html
Click here for the Colonial Warbook for Lady H:
http://www.photobucket.com/colonial_warbook