The Admiralty examined the fleet mix and realized that as the Union grew, there was a need for a dedicated fleet tender. This gave birth to the
Porter
and
Carme
classes in the beginning, and later the
Chrysothemis
and
Cybele
classes a few years later as the type proved its worth. One thing that these existing classes didn't do, however, was provide dedicated maintenance, rebuild, repair, and fabrication capabilities. They could carry and dispense supplies extremely efficiently, and the all of them had some intrinsic ad hoc repair capabilities, but none really could return a damaged ship to fighting trim.
The
Isis
class battlestar was chosen to be the foundation for the new class, and while there are elements that are similar between the
Isis
class and the new
Theros
class, the similarities mostly stop at the hull. She retained the ventral and head guns, but lost her fighter wing, missile batteries, flank, and dorsal guns. In their stead, and enormous bay was built into the lower hull measuring 1,151 meters long by 1,107 meters wide by 113 meters high. This massive volume contained everything that the Admiralty, and the field forces, wanted in a tender/repair ship; adequate stocks of spares, raw materials, fabrication shops, hangars, and the ability produce what they don't carry in a minimum amount of time.
Beyond the raw budget value that they cost to produce, the ships true value is incalculable because of the capabilities they bring to the field. They never operate alone, often sailing with a gunstar squadron with at least one
A
-class or
Dia
class heavy gunstar commanding the detachment.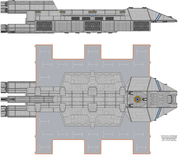 _________________
Kurt
Click the link to read Lady Hecate off line in PDF, .epub, or Kindle formats:
http://www.bsg94.org/downloads/index.html
Click here for the Colonial Warbook for Lady H:
http://www.photobucket.com/colonial_warbook