The other day, Ivanho and I were talking about gaps in the fleets that we've both developed. One of the areas we agreed on was that there didn't seem to be any fleet transport beyond the battlegroup support focused repleneishmentstars. I had a design sitting in my WIP folder that I finally figured out what was wrong with it, and finished it. Then, not stopping there, I kept going and built a "little brother". While small, when viewed against contemporary designs, they are absolutely massive and the smaller of the two can easily carry more three or four times the the volume/capacity of the largest container ship currently afloat.
The Earth Union Fleet wanted a ship that would be economical to acquire, operate, and maintain, and could be handled and managed by civilian crews. The key word, economical, mean that the design would probably best be served by something off the shelf and modified for service. What won the design competition was a submission from the E2 design consortium based on both Electra and El Dorado that started with the pods used on the new
Dynamene
class battlestars. Outwardly, they look like the stacked flight pods that lack any launch tubes but with stub wings and
E
-class gunstar engines, living spaces fore and aft, a transfer boom on each side, and the lower pod completely enclosed and no longer capable of handling small craft. Five examples were contracted and before the fourth one was completed, the design had been accepted and approved for series production. The design proved so popular, that several examples were sold to civilian concerns. The
Flower
class started out being named after member worlds' world's flower, but as the numbers increased, they were named after any flower that BuShips was willing to approve. The example pictured here,
Stargazer Lily
, was the 36th example produced and was named after Neverwhere's world flower and bears a picture of the flower on its upper hull, a practice common among members of this class.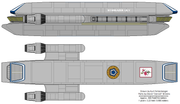 E2 saw the success that the
Flower
class had with the Union government and certain large corporations, but wanted to add something to their portfolio that would tempt smaller companies, larger companies that needed multiple hulls of smaller capacity than the
Flower
s, and something that could be tailored for both Fleet use and potential sales to individual world governments. A smaller, single pod was used, with the entire pod being enclosed and a small flight deck added in the lower hull. The engines used were common commercial engines used on
Brawny Glory
and other designs, and had an enviable track record of reliability, low maintenance, durability, and a good thrust output for its size. This smaller design also had something that its larger sibling lacked; the ability to land on a planet. The landing gear was such that the ship could land on a stabilized paved surface or it could land in a large field without complications. At the aft end, a clam shell door opened and a ramp could be extended to the ground or it could be fixed in a horizontal configuration and a cargo gantry crane extended to lift cargo off local transports.
Within two years of its introduction, contracts for the
Pixie
class transport were being booked at a rate of more than 3 to 1 when compared to its larger sibling.
Rock Pixie
, shown here, stared in the long running show,
Frontier Packet
, about the adventures its crew had while serving on the Hamilton Arm frontier. All ships were named after some sort of whimsical pixie, with
Bawdy Pixie
,
Naughty Pixie
, and
Wicked Pixie
being three of the more risque names.