Some more fleet auxiliaries...
The
Solace
class rescue ship was a tested and well liked ship, and in the 1960s when the Fleet began looking to replace the war built auxiliary transports, they decided to convert three examples into something that would fill the need. The resulting
Lake
class, of which
Lake Silverton
is the 8th example, carried on the reputation so ably won by the
Solace
. They were defensively armed and had comfortable quarters and a good volume percentage for cargo, and based on crew feedback the Fleet ordered them into general production.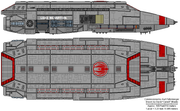 The next three classes are considered "packet", in that they are armed with standard line of battle weapons and possess the capability (though often not the ammunition) to operate in more than just a defensive mode.
When the
Ravager
and
Preserver
sister classes were fielded, the Fleet saw an opportunity to create a larger version of the
Lake
class for a fraction of the cost of designing a new hull from the ground up. The
Shire
and
Point
classes, for the Fleet and Colonial Guard respectively, were identical except for the armament. The
Shire
s lost some of the side guns, but since the ship wasn't expected to stand in the line of battle, this was an accepted loss, especially since the armaments were for defensive use only. The Guard's version, the
Point
class, was often leased to civilian operators (generally smaller lines than the Big 3, but occasionally one of them would pick up a lease) and then contracted to fill the same roles as they would have if the Guard operated them. The only difference is that they lack the red and gold hull identification stripes that a Guard crewed ship carries.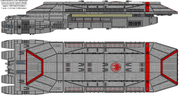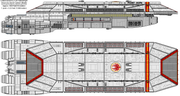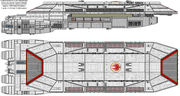 The final ship came on line after the highly successful
Myrmidon
class assaultstar was inducted into the fleet. The Fleet wanted a fast, well protected ship that could operate in contested space should the need arise. Unlike the
Lake
,
Shire
, and
Point
classes, the
Summit
class was armored in line with a battlestar and her magazines carried both defensive rounds and offensive kinetic rounds.
The hangar deck lost half the Raptor nests that operated directly from the hangar and instead saw them replaced by enclosed leisure spaces. Armored shutters could seal these new spaces and protect them from enemy fire.
What resulted from the redesign was a ship that, without trying, created a sweet spot that no-one realized was needed. Her hangar was able to handle anything in the Colonial inventory, and with a little work, could even support one of the new Fast Patrol ships. Her extensive lift capacity and volume allowed her to be converted into everything from the fast packet that she was designed as, to command ships, training ships, long range survey ships, and even hospital ships.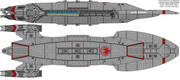 _________________
Kurt
Click the link to read Lady Hecate off line in PDF, .epub, or Kindle formats:
http://www.bsg94.org/downloads/index.html
Click here for the Colonial Warbook for Lady H:
http://www.photobucket.com/colonial_warbook