The
Lyceum
Black 10 was an upgrade of the
Lyceum
Block 4, the only difference being that the Block 10 had the wider flight pods that were becoming ever more common within the fleet.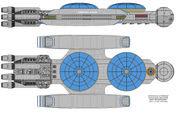 The
Lyceum
Block 11 was an iterative development of the
Lyceum
Block 7. The flight decks were extended into the hull and then additional spaces were constructed that ran from edge to edge and from front to read of the "wings". This increased the internal volume available for labs, storage, quarters, and other quality of life extras that allowed the ship to theoretically remain on station for more than five years before needing resupply.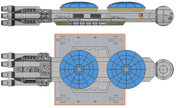 The
Deo Vindice
was originally a Union Fleet design that quickly became a favorite of the Erisians. They were fast, heavily armed and armored, and could make planetfall. The Union, seeing the possibility for 'blue on blue' incidents, removed them from front line service and relegated them to the Reserves, training, some picket duties, and with many of the guns removed, to the Guard. This lack of front line service, however, didn't stop iterative development and eventually the Block 4 was developed. It retained all the qualities that had made it a favorite, added uprated engines, heavy missile batteries, and wings similar to those used on the
A
-class.
As the Erisians were able to get their hands on a Block 4, it was assigned to the best crews and officers, those that while loyal to the cause also had a strong, almost overwhelming, sense of ethics because it was one of the few ships to carry nuclear weapons.
Lex Talionis
was a Block 4 that was under the command of Basil Martel when the drones began their genocide.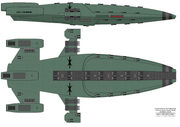 (Note: this is an updated image and replaces the original)
_________________
Kurt
Click the link to read Lady Hecate off line in PDF, .epub, or Kindle formats:
http://www.bsg94.org/downloads/index.html
Click here for the Colonial Warbook for Lady H:
http://www.photobucket.com/colonial_warbook