Prior to the Genocide which led to the Exodus, the Admiralty convened a symposium that brought together Fleet personnel, futurists, science fiction writers, ship designers, and naval engineers to explore solutions for two problems; providing enough air cover during a planetary invasion to ensure air supremacy and something that would provide air cover for convoys, system security, and with minor configuration changes, serve as a long duration patrol asset.
And it had to be done while being cost effective and preferably using shipyards that may not be suitable for heavier Fleet combatants.
The symposium lasted a week and many different designs were offered that ranged from the conservative to the risky, and all showed innovation and forward thinking. However, when all entries were judged, the team that was composed of Commander Templeton Quantrill, Dr. Alanna von Lettow, Skip Colliingsby, and James Murdoch of E2 won with a pair of designs that even had the other teams offering their support.
The design utilized two of the flight pods developed for the
Rhodos
, a Block 2
Asteria
class battlestar, combined with a center section, and the engines from an
E
-Class gunstar. The baseline design, christened
Cladeus
, would have been novel, but the more capable version,
Clio
, was one of those solutions that once seen makes one wonder why they didn't see it before.
Clio
was, quite simply, two
Cladeus
' joined bottom to bottom with redesigned internals and some additional habitation spaces.
Clio
was different internally, naturally, but shared similar internal structure that allowed for a projected fast fabrication at smaller shipyards that were already producing components for larger yards.
Both ships had a good thrust to weight ratio, and simulations showed that they would have excellent endurance and spacekeeping properties. One question was raised during the presentation; why are they using 2m guns rather than the smaller 1m guns? The design team explained that these ships weren't designed or intended to be line of battle ships, but rather be convoy escorts, patrolling "warm" systems, and to provide additional flight decks to ensure that air supremacy was maintained during an invasion and as such, the magazines would be loaded with flak rounds with only a small percentage being kinetic penetrators.
The Admiralty liked the designs and contracted for several to be completed and field tested in a "try before you buy" program. Field tests went exceptionally smoothly for a new design mixing components and series production contracts were issued for their procurement.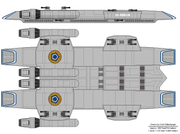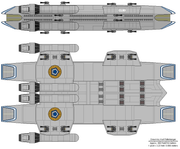 (You just know that they're going to make an appearance...think Leyte Gulf...Taffy 3 will not be forgotten!)
_________________
Kurt
Click the link to read Lady Hecate off line in PDF, .epub, or Kindle formats:
http://www.bsg94.org/downloads/index.html
Click here for the Colonial Warbook for Lady H:
http://www.photobucket.com/colonial_warbook