Made changes to the various "blended pod designs".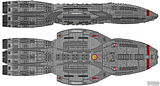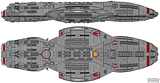 Those areas on either side of the ship above the flight pods are supposed to be missile batteries, so I modified them back to the original design to reflect this. The versions with guns now are variants.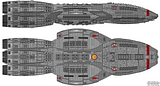 _________________
"If you want to have dinner with the Devil, make sure to bring a long spoon!"
Permission is granted to use most of my work, so long as credit is given. Before using my commissioned work, please get the permission of the person who commissioned it.
Wolf's Shipyard