Raz wrote:
I think Allen's got the right of it, I just checked the episode again and the needed section to watch is around 8:42 to 9:10 minutes into episode 3&4.

It happens when their first on approach to the Ghost Fleet. We see the Raptor and it's two escorts move into a aft approach then begin talking. Now if you pause it directly at 8:50 into the episode, you'll see four ships of note. First, we have a Berzerk, its position is in the upper left in the paused shot. Second, we have the Valkyrie-type ship, it's just below and to the right of the first berzerk. Third, is a second Berzerk, it's directly smack dab center in the shot. Fourth and lastly, is the Galactica-type, which is positioned far right in the shot.

Now, I don't mean to burst any bubbles here. But... if we follow the Raptor's approach via the video, we see that it passes just to the left of the center Berzerk and when the video cuts to Adama and gang inside the Raptor they then look up which would now correlate to them looking at the Valkyrie-type. Besides... even if for the sake of argument they were looking out and to their right when they mentioned the Valkyrie, any view of the Galactica-type would have been eclipsed by the Berzerk. For all we know they could have been talking about the Berzerk, if that were the case.
I see TWO Valkyire-Type Battlestars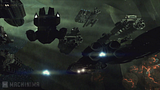 The 2nd is above the Loki Between the 1st Valk on the left and a Berzerk on the right.