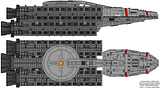 Frankly, I don't think she's really a cruiser. She looks more like a Combat Replenishment Ship, especially considering all the hatches along the three hulls and what appear to be cranes on top of them. The size is an estimate based on the observation that she's smaller than Galactica. As a result her guns are quite tiny compared to those on Galactica. There is some conflict as to her size. In the Ghost Fleet she's clearly smaller than Galactica, but at the beginning where Adama is arriving aboard Galactica she looks like she might be much bigger as the Gemenon Traveler is passing over her hull. That's only one scene though so I went with the preponderance of the evidence and went with the smaller size. The name location is pure guesswork since no name is visible anywhere.
_________________
"If you want to have dinner with the Devil, make sure to bring a long spoon!"
Permission is granted to use most of my work, so long as credit is given. Before using my commissioned work, please get the permission of the person who commissioned it.
Wolf's Shipyard