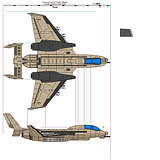 Update the 3rd: After months of inactivity, largely due to my inability to work around the center line engine-housing to a satisfactory result. A chance discovery on one of Kelso323's works caught my eye and has allowed me to continue once again on and off for the past week. Now on to the good stuff, I've changed the tail section, added more detailing and made quite a few tweaks to the design here and there. The side view is nearing completion, with detailing finished and the additions of the center engine and it's housing structure, the wings and primary engine into the side profile. And finally, I lowered the cockpit area a bit and introduced the center engine's air intake.
Next, I'll be working on the *hump* on the side view, as I rather dislike it and I want to make one that better conforms to the updated design as it stands now. I'm also considering working on the air intakes on the wings to give them a more streamlined look.
typical-unusual wrote:
OOOoooo..... progressing nicely
Thank you, I hope you like what's been done since.
50Stone wrote:
How about inverting the tail vertical stabiliser so they dip into the space beneath the tail rather than add to the height on a pretty streamlined design?
Tried it, but it just.... looked odd to me. But by all means, feel free to try it out for yourself if you'd still prefer to have it that way, 50. Besides, with the change in size of the tail stabilizers the thing would likely be scraping the pavement anyhow. :blackeye
kfeltenberger wrote:
I would also add that they be enlarged relative to the size of the main wing.
I swapped out the entire tail section of the original B&C Raptor for the one on the Caprican Blackhawk, with some minor modification to better fit with the rest of the craft to boot. I have to agree, it's muuuuuch better now that they're better balanced to the overall wing size and design. :thumbsup
Groo the Wanderer wrote:
How about a rear mine launcher or stern chaser missile launcher.
I'll see what I can come up with, providing I can find anything similar around here at the shipyards to work off of first.
_________________
Keeping my head low, trying to stay invisible,
from your piercing gaze drilling into me, killing me.