it's been a year.
anywho, I used a set of battlestar turrets that most closely had the starwars feel to them, it's cheating yes, but I just plain got fed up with my inability to draw a nose view for the previous turret.
this bird is officially complete!
no landing gear:
landing gear: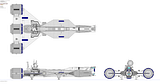 nose guns, used with permission from wolfsshipyards.
will be posting her in the completed section.
_________________
my deviantart page:
http://xraiderv1.deviantart.com/
archive of our own, good place to find lots of fanfiction:
https://archiveofourown.org/
Last edited by Anonymous on Wed Jan 26, 2011 8:10 pm, edited 1 time in total.