Several new things...
First up is the Block 3
Tisiphone
(
Nemesis
). This is similar to the Block 2 series which introduced stacked and opposed flight pods, but uses the wider pods from the Block 4
Dynamene
class. The engines are slightly uprated to handle the extra mass so the performance remains the same. While this doesn't increase the launch rate, it does expand the hangar spaces so that aircraft handling is much easier and quicker. An expanded airwing may be carried, though normally this consists of a detachment of Turul ground attack craft, several Storks, and some additional Rocs to take advantage of the expanded Marine barracks for ground operations. This has made the Block 3 a favorite with the Admiralty for detached commerce raiding duty against known Erisian strongholds.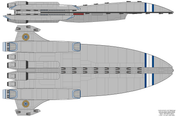 The second item is a Block 4 E-Class gunstar. The lower hull has been expanded and an additional two engines have been added. Much like the Block 3
Tisiphone
, the Block 4 E-Class has been used for an increasing number of independent operations where a well armed ship with a high sublight acceleration was favored. The extended hull offers better crew quarters, a slightly larger Marine detachment, and a slightly larger hangar deck.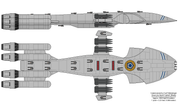 The third item is a larger and more flexible heavy drone for the E-Class gunstars. The original recon and Ragnarok drones were single mission purpose built drones. The new drones are larger and configurable. This started as a thought exercise that posed the question, "How do you resupply deployed groundside forces with the minimum amount of risk?" This resulted in two drones, both based on the same general design with both being the same length and height and only differing in width. The design mix proved so versatile that it has resulted in not just cargo versions, but variants with barracks, field hospitals, refugee support services, and even fully manned versions of the same.
When the drone enters the atmosphere, either through reentry or an FTL jump, scissor wings deploy from the bottom of the hull for control and stability, while gravitic lifters allow it to land without a runway.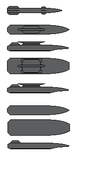 Finally, the Block 3
Hera
class. At first glance it appears to be a modified
Tisiphone
, but a closer look will reveal that it is a Hera gunstar with the same pods as the Block 2
Tisiphone
class battlestar.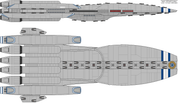 _________________
Kurt
Click the link to read Lady Hecate off line in PDF, .epub, or Kindle formats:
http://www.bsg94.org/downloads/index.html
Click here for the Colonial Warbook for Lady H:
http://www.photobucket.com/colonial_warbook