The Union Fleet entertained an unsolicited proposal from E2 Design to evolve the
Thalestris
class assaultstar into a replenishmentstar so that the Fleet would have a battlestar, gunstar, assaultstar, and replenishmentstar that shared a large portion of common components. The design was approved and the
Meliae
class was developed. E2's design extended the flight pods directly across to the hull, in essence, integrating them into a unibody design. This offered a dramatic increase in internal volume while not adding any appreciable bulk and maintaining the trim lines that
A
-class family was known for. Booms were added to each pod necessitating the deactivation of three launch tubes. The ports were retained for aesthetic purposes. Modified Ziz landers and Stork shuttles are present to deliver supplies, as is an expanded detachment of Roc utility craft.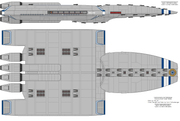 While
Meliae
was being designed, E2 pursued an additional project that took the base frame, added a habitation dome and greatly expanded living spaces, four special communications domes, and reduced the cargo lift capacity in lieu of expanded hangar spaces, barracks, administrative spaces, simulators, and other facilities that a fleet command ship would require. E2 developed the
Eurypyle
class on their own with the expectation that when the Admiralty saw it they would have an epiphany that they needed it due to the policies that would be driving expansion over the next decade. The gamble paid off and based on the simulations that proved
Meliae
to be viable, an order was placed for five ships.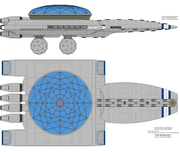 When the Admiralty saw what could be done by evolving
Thalestris
into
Meliae
, they sent a request for a study whether something similar could be done to the
Jocasta
class. Within hours of receiving the request, E2 had returned the
Minthe
proposal. When
Jocasta
was designed, they went out on a limb and developed a further modification of the Block 4
Electra
into
Minthe
.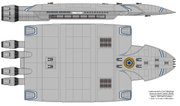 (Edit: Changed the name of Phaedra to Eurypyle as Phaedra was already assigned and used)
_________________
Kurt
Click the link to read Lady Hecate off line in PDF, .epub, or Kindle formats:
http://www.bsg94.org/downloads/index.html
Click here for the Colonial Warbook for Lady H:
http://www.photobucket.com/colonial_warbook