Hi Kurt, Vianca and all, as promised I am going to try and address all the points raised.....
I'm going to take your first point first Kurt, yes I am prepared to concede having those silo's so close the crew quarters was probably a bad idea, that said, wherever you situate them on a ship they will be just as vulnerable surely, for example if you look at many of the designs drawn by 'Canis' and commissioned by yourself there are many where silo's are situated close to where I envisage the bridge and C.I.C to be, to me that's even worse, to lose your entire flag officers in one fell swoop if a nuke happened to score a direct hit on said silo's, but I've decided to move them atop.
Point 2, I'm afraid I'm not really clear on what your asking, are you saying there should be more tubes, well no, in my new Super Battlestars there are six hundred vipers, there are four hanger bays, two on each side one above the other, there are six complete squadrons in each bay of twenty five vipers per squadron, hence 150 vipers per bay, twenty four squadrons in all, don't forget this beast is 2.57 kilometres long or 1.6 miles compared to the Galactica at 2.9 kilometres or 1.3 miles, as I said the largest Battlestars ever constructed, that's why I have called them a 'City in Space'. They are able to house full communities on board should the need to escape Terra occur heaven forbid. Please remember I am using the rack system as in B & C.
Point 3 yes, this one is a very good point made by yourself and Vianca and I agree totally, it would indeed make much more sense to construct fully demountable pods with permanent engines, Tylium storage bunkers and permanent C.I.C and bridge
Vianca, your point on crew bunks I have already covered, please refer to the drawing I did with explanatory notes on page 10 of this thread showing exactly where both the officers and warriors quarters are.
So..... this is what I have come up with;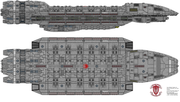 Notice I have slightly raised the pods as the engines made her look heavily pregnant and I've tried to negate that a little.
....and here's the carrier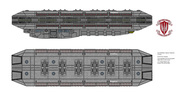 Hope this helps, thanks for your input guys