Hi all, I've been working on a set of vehicles for my story "Pilgrimage to Earth"
As mentioned in episode 18 "The Slaves of Diablo" part two, here is a quote followed by the vehicles....
"Adama to fleet, prepare all dropships to be loaded with the new emergency vehicles, riot, fire and medical landrams to be sent into the square, have the new Terran guard and all law enforcement personnel down to the hot spot immediately! Await no further orders, get down there and get the ringleaders taken away STAT!" yelled Adama.
Within thirty minutes the well drilled specialist teams were on site as huge dropships descended into the main city square to deliver their cargo. The scene was briefly reminiscent of a war zone, the new colony of Terra had never witnessed such an event, the co-ordinators of the melee were snarling like rabid dogs!
What had got them so fired up as to jeopardise the infrastructure of a fledgling city with it's paint barely dry! The answers to that and other questions would have to wait!
Huge specialised vehicles were dispatched to every street in the city to flush out the anarchists. Water cannons were used to disperse the ever growing crowds of angry civilians, some bleeding from the force of being thrown to the ground by the powerful water jets fired at them from these vehicles known as landrams.
Some had even taken to setting alight huge tyres to try and prevent the ground troops from seeing them through the thick acrid smoke.
It took a full three hours for the ground forces to quell the baying mob and round up the main architects of the insurrection. Finally the streets were cleared of all protesters, but not before they had inflicted damage to a number of buildings.
Though already planned, it was not anticipated that these vehicles would have to be used to quell a real riot, however...
These armoured ambulance vehicles were deployed due to many injuries.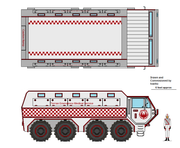 Although not needed yet due to there being no high rise buildings as yet, they had already built two Ladder vehicles in readiness for the new higher buildings planned for the City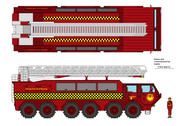 This one was also deployed inside the perimeter of the new airfield and could also be used as a aircraft de-icer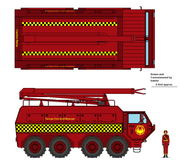 This vehicle was manufactured as a protection for those mapping out the surrounding mountains of Zelan City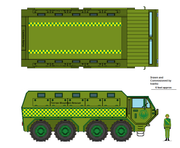 ...And these vehicles were used to quell the violence, note the water cannons on the roof.