Another custom I did not long ago: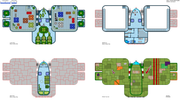 Capsule: "How in the hell does he keep that thing in the air?" - Jessa Noe, head of the Smuggler's Guild.
If you need something illegal done, you hire a smuggler. If you're really desperate, you hire Pete "Black Dog" Kahler. He's cunning, reckless, and has the worst luck of any smuggler alive.
Built from the remains of an old Comrade 4400 that he salvaged from a crash site on Rampart, the
Long Odds III
has been heavily modified by Pete. The forward cargo bays were destroyed, so he moved the landing gear to the rear bays. This battered, barely functional ship was pieced back together from junk from scrap yards and junk heaps, and Pete keeps it flying mainly through stubbornness and a total disregard for safety.
The interior matches the bullet-ridden, rusting exterior. The walls and floors are caked with grime from a dozen worlds, lubricants, and used oil, and wires and components hang from the fixtures in every room. Most of the components are outdated or barely functional, and there are missing sections of floor plating in both cargo bays.
The only two "upgrades" Pete has added to his flying junk heap are two forward-facing twin flak cannons mounted between the cargo bays, and an extra "jumper" generator cabled into the ship's power plant. The cannons are mostly for show, as Pete prefers running to fighting whenever possible, and only see action if he's cornered.
The "jumper" feeds extra power directly into the drive chamber, giving it a short-lived boost that can increase the
Long Odds III
's maximum thrust by as much as 12%. The drawback of this, of course, is that the engines overheat quickly, and tend to shut down within minutes. As a result, the engines frequently redline or de-synchronize during normal use, and have to be taken offline completely to make repairs.